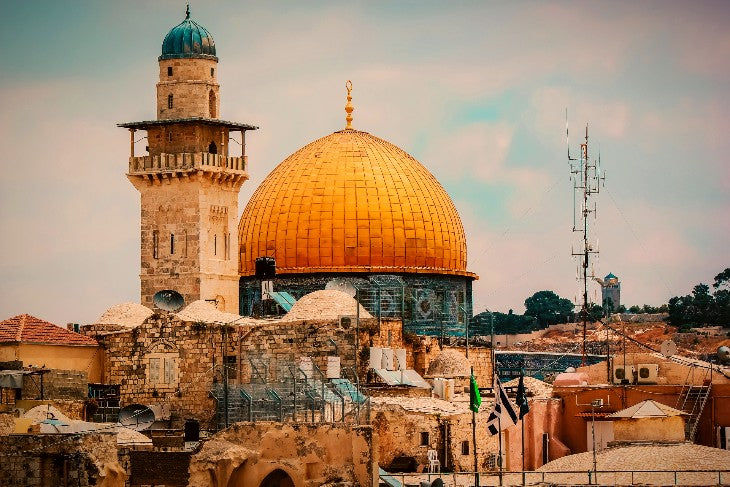 How it Started
In the summer of 2014, we travelled to Palestine, where we fell in love with everything about it; the people, the food, the culture, and especially the sunsets. Even though Palestine is not a conventional travel destination, it has a rich cultural and religious heritage. It's sacred to many religious traditions, especially the Abrahamic religions of Judaism, Christianity, and Islam, and hence is also known as the Holy Land.
Besides its religious significance, Palestine has some of the best food in the world! We were blown away by some remarkable dishes, notably mansaf, which is basically chicken or lamb over a bed of fragrant rice topped up with a yoghurt-based sauce - absolutely delicious! We also experienced first-hand the hospitality of the Palestinians. They were warm, friendly, and welcoming - overall, it was a truly wonderful experience. 
When we returned to the UK, we kept thinking about what we could do to share our experiences in Palestine with the British community. And that's how we came up with the idea of sourcing premium Medjool Dates straight from the farmers in Jericho valley in Palestine and selling it in the UK.
This idea served two purposes: enabling the UK to experience the delicacies of Palestine and also support local Palestinian farmers in expanding their business to other countries. Palestine is the land known for date palm cultivation for thousands of years, and there was no doubt that the dates sourced from there were only of the most premium quality. And so, Holy Land Dates was born in 2016.
Our Vision 
Our business model is built around the objective of creating a platform which provides Palestinian goods to people all over the world while supporting the local Palestinian farmers and promoting their business. But it isn't just limited to business objectives; we can proudly say that 50% of our net profits go towards helping vulnerable children all over the world.
While this is HLD's main objective, we also strongly believe in making sure our products are affordable and sustainable - our goal is not to make huge profits, but to sell good quality products at prices affordable for all. At the same time, we want to bridge the income inequality gap by helping more children have access to education and other basic necessities. This is an investment in the family's future which helps and enables them to overcome generations of poverty and inequality.
Even though we started by just selling premium Medjool Dates, the portfolio quickly expanded to other Palestinian products. This helped us provide a stable income stream for hundreds of families in Palestine, while providing thousands in the UK with access to premium yet affordable Palestinian products.
Everything we do revolves around supporting Palestinian projects - from our clothing range to our collection of natural soaps and washes. Nablusi soap is a local Palestinian product traditionally made by women for household use, but the practice has been dying recently. Local Palestinian women produce this soap in order to revive local traditions, and now this product has become one of the best-sellers in our catalogue!

Our Products
As the name suggests, our main product is premium Medjool Dates (you can read more about them in this really comprehensive blog), but then moved into other products as well.
These include natural, extra virgin olive oil, black seed oil, herbs and spices such as Za'atar and rejuvenating body washes and soaps all made from natural ingredients. Our packaging also reflects Palestinian culture and designs.
More recently, we are working on our very own clothing range comprising T-shirts, hoodies, and tracksuits etc. Even though these will be manufactured in Pakistan, the designs will be Palestinian. The purpose of this is to keep raising awareness about Palestine and funding projects that can raise enough money to continue building a platform for businesses in Palestine and other notable causes across the world. 
Our priority is to ensure that the products we offer are only of the highest quality along with the best customer experience and satisfaction. The quality of our products and service represent our brand name - something we will never compromise. 
Giving Back 
HLD strongly believes in the principle of giving back to society by helping vulnerable populations and mitigating educational disparities. In buying from us, we provide you with the opportunity to give back to the Palestinian community by buying directly from farmers and supporting small businesses. 50% of net profits go towards helping vulnerable children all over the world.