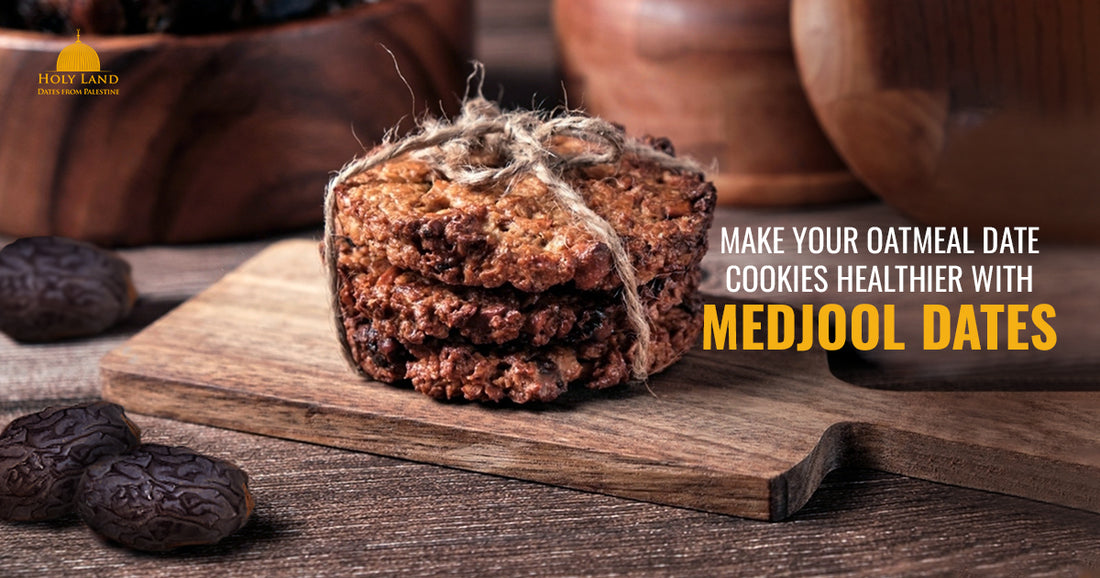 Make your Oatmeal Date Cookies healthier with Medjool Dates
If you're a fan of oatmeal cookies, you're going to love this recipe featuring the sweet and chewy goodness of Medjool dates. These oatmeal date cookies are a perfect treat for any time of day, whether you're looking for a midday pick-me-up or a dessert to cap off your evening.
Medjool dates add a natural sweetness to these cookies, making them a healthier alternative to traditional sugary treats. Plus, the addition of oats not only adds a chewy texture, but also boosts the nutritional value of these cookies with fiber, vitamins, and minerals.
So, grab your mixing bowl and get ready to whip up a batch of these delicious oatmeal date cookies. They're sure to be a hit with your family and friends, and you can feel good about indulging in a treat that's both delicious and nutritious.
Ingredients:
1 cup all-purpose flour

1 tsp baking powder

1/2 tsp baking soda

1/2 tsp salt

1/2 tsp ground cinnamon

1/2 cup unsalted butter, at room temperature

1/2 cup granulated sugar.

1/2 cup brown sugar

1 large egg

1 tsp vanilla extract

1 1/2 cups old-fashioned oats

1 cup Medjool dates pitted and chopped.
Instructions:
Preheat your oven to 350°F (180°C). Line a baking sheet with parchment paper.

In a medium bowl, whisk together the flour, baking powder, baking soda, salt, and ground cinnamon.

In a large bowl, beat together the butter, granulated sugar, and brown sugar until creamy.

Add the egg and vanilla extract to the butter mixture and beat until well combined.

Gradually stir in the flour mixture until just combined.

Stir in the oats and chopped Medjool dates until evenly distributed.

Using a cookie scoop or spoon, drop rounded tablespoons of dough onto the prepared baking sheet, spacing them about 2 inches apart.

Bake for 12-15 minutes, or until the edges are lightly golden and the centers are set.

Allow the cookies to cool on the baking sheet for a few minutes before transferring them to a wire rack to cool completely.

Store the cookies in an airtight container at room temperature for up to 5 days.
These oatmeal date cookies are a wonderful addition to any cookie lover's recipe book. With the sweet and chewy addition of Medjool dates, these cookies are a healthier alternative to traditional sugar-laden treats. The oats also provide a hearty and filling texture, while offering a wealth of nutritional benefits.
So why not give these oatmeal date cookies a try? They're easy to make and are sure to be a hit with your taste buds. Plus, with their wholesome ingredients, you can indulge without guilt.
If you enjoyed this recipe, be sure to try out some of our other Medjool dates at Holy Land Dates. And don't forget to share your creations with us on social media using the hashtag #oatmealdaterecipes. Happy baking!
Enjoy your delicious oatmeal date cookies!